Are you looking for the latest Popeyes menu with prices in Canada? Here is a list of all the menu items offered by this chain in Canada and their prices.
Popeyes, also known as Popeyes Louisiana Kitchen, is a fast-food restaurant chain originally from Louisiana that mainly sells fried chicken.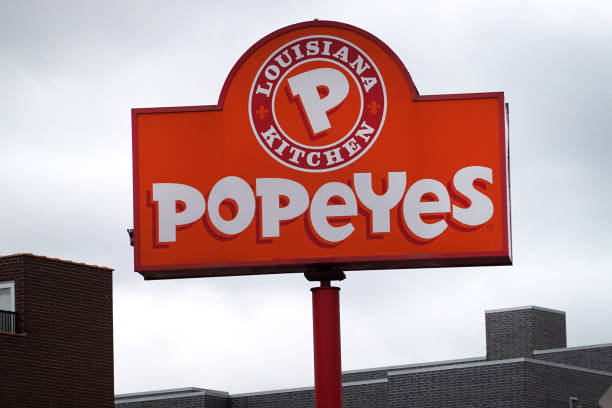 Popeyes' prices are comparable to that of other fried chicken restaurants such as Church's Chicken and Kentucky Fried Chicken.
In contrast to other fried chicken restaurants, Popeyes only offers mild, spicy, and very spicy chicken.
The company was founded by Al Copeland in 1972 as Chicken on the Run and sold traditional Southern-fried chicken.
In 1976, it was renamed Popeyes after Gene Hackman's character in the movie The French Connection.
Popeyes Menu Prices in Canada
Popeye's has always been a favourite when it comes to fast-food fried chicken, with its crispy chicken tenders and spicy Cajun offerings setting them apart from competitors like KFC or Church's Chicken.
However, if you're not a fan of spicy food (or don't like having your mouth on fire for hours), you may have been at a loss for what to order at Popeye's.
Luckily, there are plenty of options available for those who need milder options — some of which are even healthier just because they lack all that extra spice!
Below are the latest Popeyes menu prices in Canada.
Chicken combos and platters
| | |
| --- | --- |
| Tenders Only (3 Piece) | CAN$7.19 |
| Tenders Only (5 Piece) | CAN$11.29 |
| Bonafide Chicken Combo (2 Piece) | CAN$11.49 |
| Bonafide Chicken Combo (3 Piece) | CAN$13.49 |
| Bonafide Chicken Combo (4 Piece) | CAN$14.49 |
| Bonafide Chicken Platter (2 Pieces) | CAN$12.99 |
| Bonafide Chicken Platter (3 Pieces) | CAN$14.99 |
| Bonafide Chicken Platter (4 Pieces) | CAN$15.99 |
| Tender Combo (3 Pieces) | CAN$11.79 |
| Tender Combo (5 Pieces) | CAN$14.99 |
| Tender Platter (3 Pieces) | CAN$13.29 |
| Tender Platter (5 Pieces) | CAN$16.49 |
| Rip N Chicken Combo | CAN$10.49 |
| Rip N Chicken Platter | CAN$12.29 |
| Nuggets-8 | CAN$6.79 |
| Nuggets-12 | CAN$9.49 |
| Nuggets-24 | CAN$17.49 |
| Nuggets-36 | CAN$26.49 |
| Nugget Combo (8 Pieces) | CAN$11.29 |
| Nugget Combo (12 Pieces) | CAN$13.99 |
| Nugget Platter (8 Pieces) | CAN$12.79 |
| Nugget Platter (12 Pieces) | CAN$15.49 |
Wings
| | |
| --- | --- |
| 10 Wings | CAN$16.49 |
| 5 Wings Combo | CAN$12.49 |
| 5 Wings Platter | CAN$13.99 |
| Ghost Pepper Wings Snack | CAN$9.49 |
| Ghost Pepper Wings Combo | CAN$12.79 |
| Ghost Pepper Wings Platter | CAN$14.49 |
Sandwich combos and platters
| | |
| --- | --- |
| Chicken Sandwich | CAN$7.29 |
| Spicy Chicken Sandwich | CAN$7.29 |
| Chicken Sandwich Combo | CAN$11.49 |
| Spicy Chicken Sandwich Combo | CAN$11.49 |
| Chicken Sandwich Platter | CAN$13.49 |
| Spicy Chicken Sandwich Platter | CAN$13.49 |
| Cajun Flounder Sandwich | CAN$7.49 |
| Cajun Flounder Sandwich Combo | CAN$11.99 |
| Cajun Flounder Sandwich Platter | CAN$13.99 |
Seafood combos and platters
| | |
| --- | --- |
| Butterfly Shrimp (8pcs) | CAN$7.79 |
| Popcorn Shrimp (1/4 lb) | CAN$6.79 |
| Cajun Fish Combo | CAN$10.99 |
| Fish & Shrimp Combo | CAN$11.99 |
| Butterfly Shrimp Combo | CAN$10.99 |
| 1/4 Pound Popcorn Shrimp Combo | CAN$9.99 |
| Butterfly Shrimp Platter | CAN$12.49 |
| 1/4 Pound Popcorn Shrimp Platter | CAN$11.49 |
| Fish & Shrimp Platter | CAN$13.49 |
| Cajun Fish Platter | CAN$12.49 |
| Cajun Shrimp | CAN$8.29 |
| Cajun Shrimp Combo | CAN$10.49 |
| Cajun Shrimp Platter | CAN$12.29 |
Chicken family meals
| | |
| --- | --- |
| Bonafide Chicken Family Meal (8 pieces) | CAN$31.99 |
| Bonafide Chicken Family Meal (12 pieces) | CAN$43.99 |
| Bonafide Chicken Family Meal (16 pieces) | CAN$54.99 |
| Tender Family Meal (8 pieces) | CAN$31.99 |
| Tender Family Meal (12 pieces) | CAN$43.99 |
| Tender Family Meal (16 pieces) | CAN$54.99 |
| Bonafide Chicken Family Meal (20 pieces) | CAN$61.49 |
| Tender Family Meal (20 pieces) | CAN$61.49 |
Chicken family box
| | |
| --- | --- |
| Bonafide Chicken (8 Pieces) | CAN$22.99 |
| Bonafide Chicken (12 Pieces) | CAN$30.79 |
| Bonafide Chicken (16 Pieces) | CAN$39.49 |
| Tenders (8 Pieces) | CAN$22.99 |
| Tenders (12 Pieces) | CAN$30.79 |
| Tenders (16 Pieces) | CAN$39.49 |
| Bonafide Chicken (20 Pieces) | CAN$46.99 |
| Tenders (20 Pieces) | CAN$46.99 |
| Bonafide Chicken (24 Pieces) | CAN$54.99 |
| Tenders (24 Pieces) | CAN$54.99 |
Signature sauces
| | |
| --- | --- |
| Bayou Buffalo | CAN$0.5 |
| BBQ | CAN$0.5 |
| Blackened Ranch | CAN$0.5 |
| Buttermilk Ranch | CAN$0.5 |
| Cajun Cocktail | CAN$0.5 |
| Honey Mustard | CAN$0.5 |
| Sweet Heat | CAN$0.5 |
| Tartar | CAN$0.5 |
Signature sides
| | |
| --- | --- |
| Cajun Poutine | CAN$5.69 |
| Cajun Fries (Regular) | CAN$2.49 |
| Cajun Fries (Medium) | CAN$4.49 |
| Cajun Fries (Large) | CAN$6.59 |
| Onion Rings (Regular) | CAN$2.49 |
| Onion Rings (Medium) | CAN$4.49 |
| Onion Rings (Large) | CAN$6.59 |
| Mashed Potatoes (Regular) | CAN$2.49 |
| Mashed Potatoes (Large) | CAN$6.59 |
| Coleslaw (Regular) | CAN$2.49 |
| Coleslaw (Large) | CAN$6.59 |
| Macaroni and Cheese (Regular) | CAN$2.49 |
| Macaroni and Cheese (Large) | CAN$6.59 |
| Red Bean and Rice (Regular) | CAN$2.49 |
| Red Bean and Rice (Large) | CAN$6.59 |
| Cajun Gravy (Regular) | CAN$2.29 |
| Cajun Gravy (Large) | CAN$4.79 |
| Biscuit | CAN$1.29 |
| 6 Biscuits | CAN$4.99 |
| 12 Biscuits | CAN$8.29 |
Drinks
| | |
| --- | --- |
| Bottled Coke | CAN$2.79 |
| Bottled Diet Coke | CAN$2.79 |
| Bottled Sprite | CAN$2.79 |
| Bottled Ginger Ale | CAN$2.79 |
| Bottled Fanta | CAN$2.79 |
| Bottled Root Beer | CAN$2.79 |
| Bottled Ice Tea | CAN$2.79 |
| Bottled Orange Juice | CAN$2.79 |
| Bottled Apple Juice | CAN$2.79 |
| Bottled Lemonade | CAN$2.79 |
| Bottle Coke (2L) | CAN$3.79 |
| Bottle Diet Coke (2L) | CAN$3.79 |
| Bottle Ginger Ale (2L) | CAN$3.79 |
| Bottle Fanta (2L) | CAN$3.79 |
| Monster Energy | CAN$4.79 |
| Bottled Smart Water | CAN$3.49 |
| Bottle Dasani Water | CAN$2.79 |
Desserts
| | |
| --- | --- |
| Apple Pie | CAN$1.59 |
| Strawberry Cream Cheese Pie | CAN$1.59 |
| Raspberry Cheesecake Fried Pie | CAN$1.59 |
| Chocolate Beignets (3 Piece) | CAN$2.39 |
| Chocolate Beignets (6 Piece) | CAN$4.79 |
| Chocolate Beignets (12 Piece) | CAN$8.99 |